What's Zoom to Fill?
Zoom to Fill is a web browser extension for chromium browsers, as a solution for incorrect aspect ratio videos on ultrawide monitors.
With more than +100.000 users and counting, this extension offers intuitive user experience to handle video aspect ratio on major streaming platforms like:
So, how does it work?
The extension calculates the relation between the true video size and the screen size and gets the scale that is gonna be applied to the video accordingly, eliminating black bars of the video.
Click to zoom or Scroll on the button to manually adjust

To use the manual adjusment, you have to place your cursor on the button and then use the scroll of your mouse to manually adjust.
Popup controls or scrolling on the scale number also achieve the same functionality.

Popup interface
The extension have incorporated a popup with tons of functionality.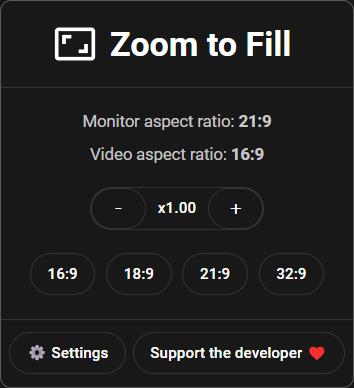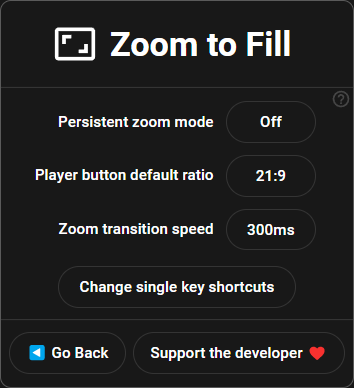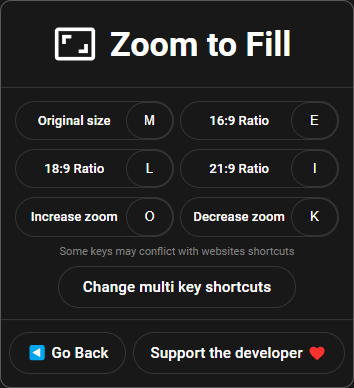 The main popup page shows clear information about your monitor and video that you are watching.
Comes with simple controls to manually adjust your desired scale, and lower buttons let you choose a predefined aspect ratio scale.
On the settings section, you can configure different options such as:
Persistent zoom mode:
This means that the selected scale level will persist through the tab session.
For example, you are watching a series with the zoom activated, when you get to watch another episode your zoom will persist.
Player button default ratio:
This means that you can also select which is the predefined aspect ratio you prefer to apply when clicking on the player extension button.
Zoom transition speed:
This simply means that the smoothness of the transition of the scale can be adjusted.
Keyboard shortcuts:
Intuitive configuration for different shortcuts can be set up
Support
Copyright © 2023 by Gabriel Mazzoleni
All Rights Reserved